greyhounds on gotham canine and mutt lynch winery
There was a little surprise for us on the web today: Gotham Canine is featuring our valentines! We've been fans of Gotham Canine for a while now so were were delighted to find ourselves featured there. Felicia, who runs the site, does a great job of seeking out new and interesting dog finds (just check out the blog to see what we mean) and her Valentine's Day write-up is so thoughtful and sweet. Nicely done and our heartfelt thanks, Felicia!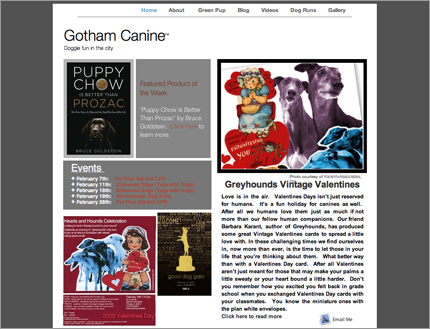 *******
Additionally, Mutt Lynch Winery, an awesome dog-centric California winery, included a nice little write-up about us on their site: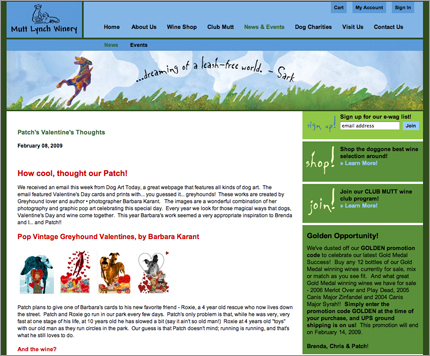 Mutt Lynch Winery appeals to wine and dog-lovers of all types, and their labeling is great too:

Chris and Brenda run the winery and their greyhound Patch helps out as much as possible:

They write,
Patch. The winery dog. Well sort of. Patch's idea of helping out at the winery looks suspiciously like his activities at the house – find the most comfortable place available, lie down, fall asleep, move only if forced to do so. Forklifts and picking bins seem to be in "his" way, not vice-versa. To his credit, Patch is a rescue ex-racing Greyhound from New Zealand who had a stellar career down-under. He was the king of his kennel so to speak, and thinks he still should be! His racing these days is limited to chasing squirrels and cats, when he's not sleeping of course.
Believe us, we understand!
Patch is giving his friend Roxie one of our valentines for the holiday. Very sweet. We'll be curious to hear how it goes…