Wednesday, March 18th, 2009
Hello!
First: A quick apology to anyone who has been checking in regularly, only to find that updates to the Hound Blog have been a bit less regular recently. We are still here and goin' strong! Lots of exciting things have been brewing here at the studio, keeping us pretty busy. More on that soon!
Second: Thanks so much to everyone who came out to our Hearts and Hounds celebration last month. Of course, a great time was had by all, humans and hounds alike. We will be posting photos from the event in the near future.
Third: So many wonderful items were donated to the Hearts and Hounds fundraiser auction- we can't stress HOW MUCH we appreciate everyone's generosity.
One item that caught our attention in particular was an adorable screen print poster from Chicago Printmaker and Artist, Diana Sudyka: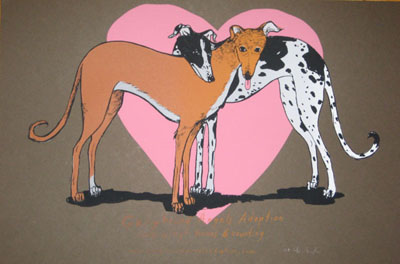 You may recognize Diana's work from various gig posters around town, but she also has great prints of animals, historical figures and other ephemera available for sale on her website and at her Etsy shop. We also like her blog, The Tiny Aviary.
It turns out, Diana is also a fan of greyhounds and has teamed up with a few other artists, Tim Gough, Largemammal Design, and Mile 44 in an effort to help the nonprofit group, Greyhound Angels Adoption celebrate 1000 greyhound adoptions! The 4 artists are offering limited edition prints for sale to benefit GAA. The prints can be purchased individually or in a set of four. What a great chance to own some awesome artwork while simultaneously helping the greyhounds! We love it. Check out the Large Mammal Print website for more info.